Leather Boot Cleaner Machine Glikon G-SJ1001
General entry-cleaning machine
Microwave sensor induction start
Compact size and easy to install, super cleaning ability
Self-suction, easy to clean manually
Source manufacturer, affordable price
Suitable for home entrance, office entrance and other entrances with less people enter and exit
Please add the item to your shopping cart and enter your destination country on the checkout page to see the DDP or DDU shipping fee and delivery time.
Since the trade terms DDU or DDP cost differently for different items, you'd better check 1 type of the machines at a time.
The use of automatic boot cleaner and automatic shoe cleaner
l promise you can learn how to use automatic boot cleaner and automatic shoe cleaner in two minutes. Use seconds to polish shoe soles later. You really need it. I will show you the necessity and the importance of getting it. They are also called automatic shoe sole cleaning machine. Yet, there are some differences between them. You can find the differences after reading our article. Finally, whatever questions come, you can turn to customer service. These are the summary of the article. Now, please read it under the guidance of titles.
The usage of automatic boot cleaner and automatic shoe cleaner
Actually, the way of using the shoe cleaner is the same as the boot cleaner. But what we see in the video is automatic shoe cleaner. So, let's learn how to use it before using automatic boot cleaner. The following are concrete steps.
Firstly, pour some sole cleaner or shoe cleaner into the machine and fill the sink.
Secondly, plug it in and try to operate it. When you walk on boot cleaner it will have a automatic boot cleaning. Then boot cleaner with cleaning brush start to polish shoe sole. Wait for seconds, you can clean up you shoe soles. Keep on going forward letting the water absorbent pad dehumidify the shoe soles.
Thirdly, clean up waste water with a vacuum cleaner after using it. You needn't drain away water frequently or worry missing time to drain it. Because the automatic shoe cleaner is equipped with indicator light to remind you. What's more, our machine has built-in hepa filter which can filter much solid waste. So, using hepa filter can avoid pipe jam.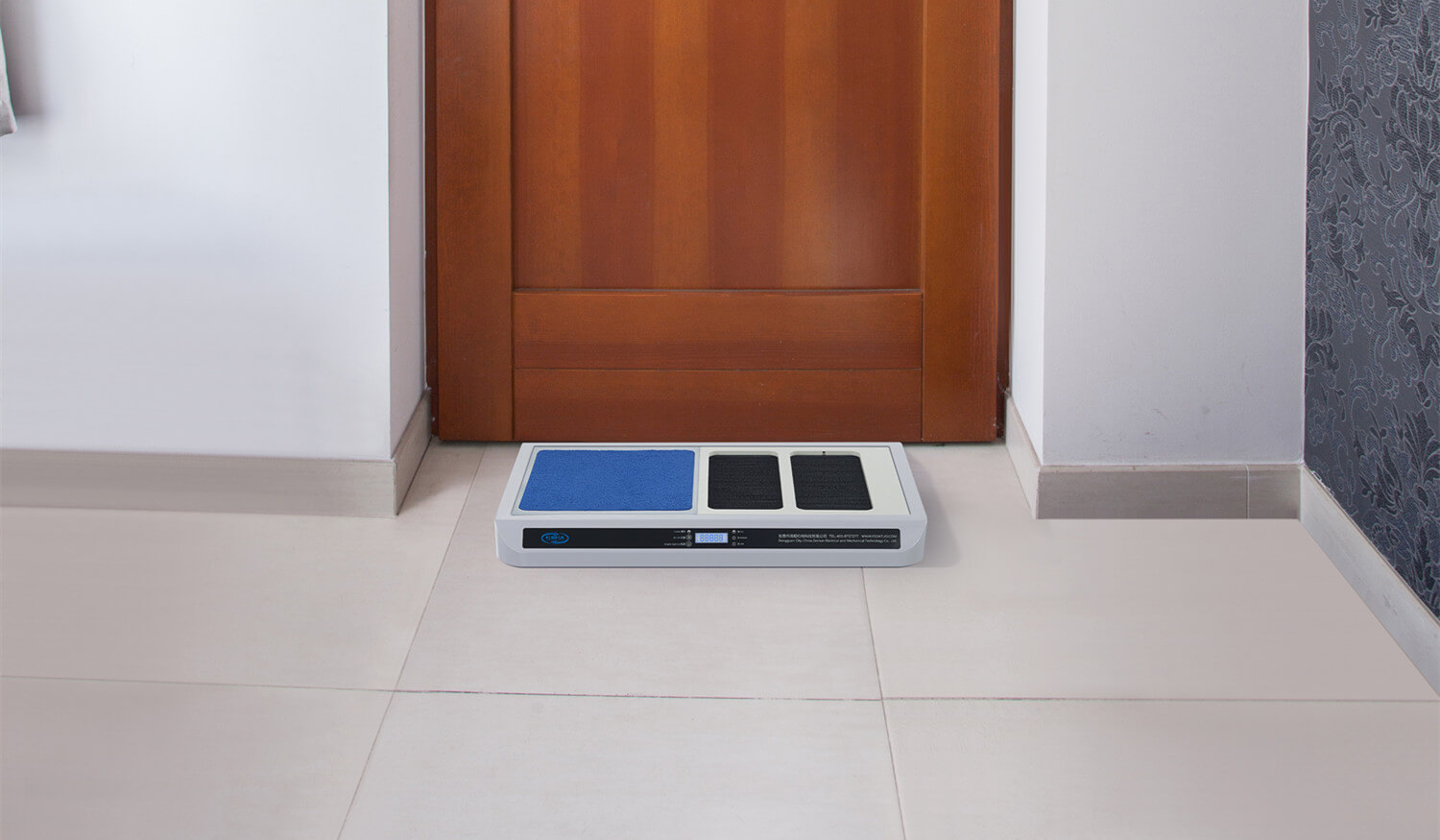 The necessity and the importance of getting an automatic shoe cleaner
As you see, it is so quickly to clean the shoe sole that it just take a time to glance at gift cards. No matter you choose to have a shoe clean by yourself or buy a portable shoe shiner, it is troublesome anyway.
For the former, you should prepare a shoe care kit. And a brush kit including shoe polisher brush, cleaning brush. Besides, you still need to spend at least five minutes to have a shoe clean with a shoe shine kit. After all, the efficiency of manually using cleaning brush is limited. So does shoe polisher brush. I believe you are tired of above steps. And it is expensive to employ someone to give your shoes a personal care especially.
For the latter, you should buy a portable electric shoe polisher machine. Use an electric shoe shine with electric shoe brush to clean is fast but in fact it is time-consuming. You need to polish shoe soles for a while until they are dry. Then go into production area or go home. Apparently, the most economic and convenient choice is to buy our cleaning machine. It is our sincerely advice whether buying it is up to you. And we respect your thoughts. In a word, it is necessary to buy an automatic shoe sole cleaning machine. They are as important as home improvement. They wouldn't damage your indoor home improvement too. You just put it on the flat place then plug it in to polish shoe soles. In addition, they are durable according to part of raw material is stainless steel. If you are still struggling to choose seeing the below.
Differences between automatic boot cleaner and automatic shoe cleaner
In terms of application, automatic boot cleaner is usually applied to large-scale production area. Also, you can clean the surface of shoes. But for automatic shoe cleaner, it tend to be used at home, in hospital, in hotel and so on. And it only clean the shoe soles. However, this is enough for almost people. Anyway, both them need the routine maintenance. So, keep on reading the rest of article to learn more.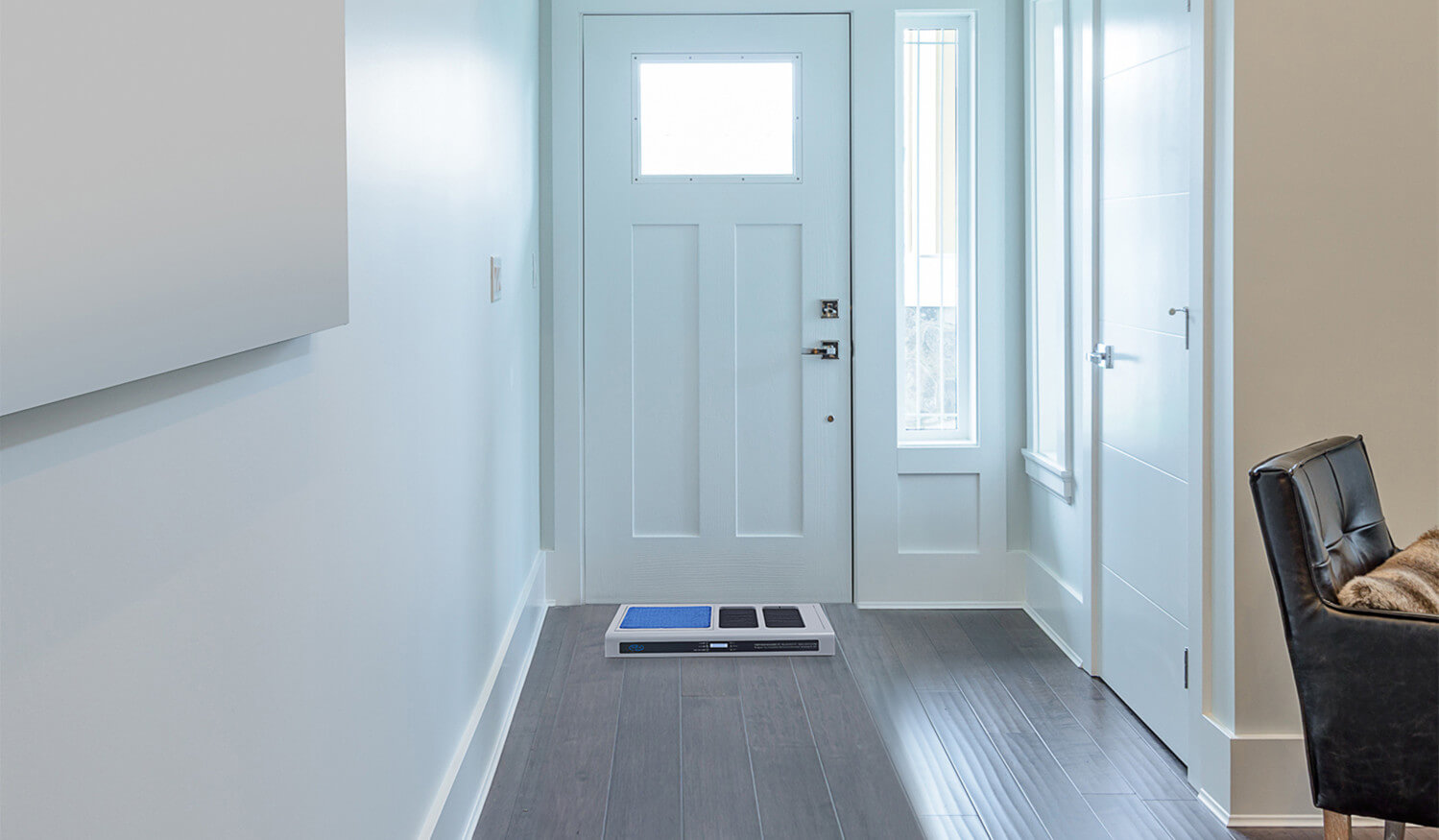 The daily maintenance of stainless steel shoe sole clening machine
Remember to replace the shoes washing absorbent pad from time to time. Besides, change waste water in the sink timely. Then clean the solid waste which is accumulated in the machine once every two or three months. To learn more maintenance tips please visit our official website glikon.com or follow me and give me a like. I will update the video as soon as possible.
Customer service
If the machine is broken you can contact with the local after service center. At last, thank you for reading and hope you have a wonderful shopping experience.
Dimension(MM):  835* 570 *80
Clean Zone(MM):  330* 360
Dry Zone(MM): 330* 360
Work Induction: Auto
Inlet Water Temperature: 1-40℃
Water Tank Capacity: 3L
Water Change Method: Manual
Sediment Cleaning Method: Dirt Suction
Suction Power: DC 100W
Working Voltage: DC 24V
Motor Voltage/Power: DC 24V/ 90W
Working Current: 1.5A
Brush Rotation Speed: 110RPM
Noise: <60DB
Main Body Material: SUS304
Maximum Load Capacity: 150KG
Main Body Life: 6 Years
Weight: 23KG
Warranty: 14 Months
Input Voltage: We will choose the corresponding voltage model according to the destination country of your order
Absorbent Cotton *4

Power Supply Line *1

DC Converter *1

Dirt-absorbing Motor *1

Sole Cleaning Machine *1