Sole Cleaning Machine Shoe Cleaner Machine Glikon P-SJ1130
Passage-entry automatic cleaning machine
Microwave sensor induction start,Efficient, fast cleaning
Front and back bevelled stainless steel material design, beautiful and wear-resistant appearance, strong overall structure
Manual/automatic mode selection, self-suction for easy manual cleaning
Height-adjustable,length available
Source manufacturer, affordable price
Suitable for workshop entrance, building entrance and other entrances with more people enter and exit
Notice: Don't put it under the bright natural light. (Lamplight is OK.)
Please add the item to your shopping cart and enter your destination country on the checkout page to see the DDP or DDU shipping fee and delivery time.
Since the trade terms DDU or DDP cost differently for different items, you'd better check 1 type of the machines at a time.
Factory Essential,Shoe Cleaner Machine Glikon P-SJ1130
Due to the outbreak of the COVID-19 pandemic, we have to face more uncertainties. Yet, I believe we can take life and health seriously. We can do something trivial well, like washing our shoes. But chores don't mean they are easy to do. If you want to spend less time cleaning shoes, please make good use of shoe cleaning products, such as boot scrubber. However, when it comes to shoe soles cleaner machine, we don't know anything at all. In my eyes, you may wonder which sole cleaning machine is of high quality. Thus, we propose a solution for you. You can buy Shoe Cleaner Machine Glikon P-SJ1130. Please read carefully, then you will know why we suggest this shoe cleaning machine for sole cleaning.
Shoe Cleaner Machine of High Quality
Each product is expensive for a reason. This shoe soles cleaner machine has other advantages in quality. One of its advantages is that it is height-adjustable. You can adjust the height of the shoe soles cleaner machine according to your demands. Look at the picture of the machine, you can see that the front and rear bevels are made of SUS 304. So it has a beautiful and wear-resistant appearance. This also shows that it is featured with a strong overall structure. The shoe cleaning machine is 80 kilograms, but its maximum load capacity is 150 kilograms. Therefore, it can bear nearly twice its own weight. Even a fat man in heavy boots can stand on the machine. Besides, it has a built-in HEPA filter. Sometimes, you may take this shoe button cleaning machine as a boot wash station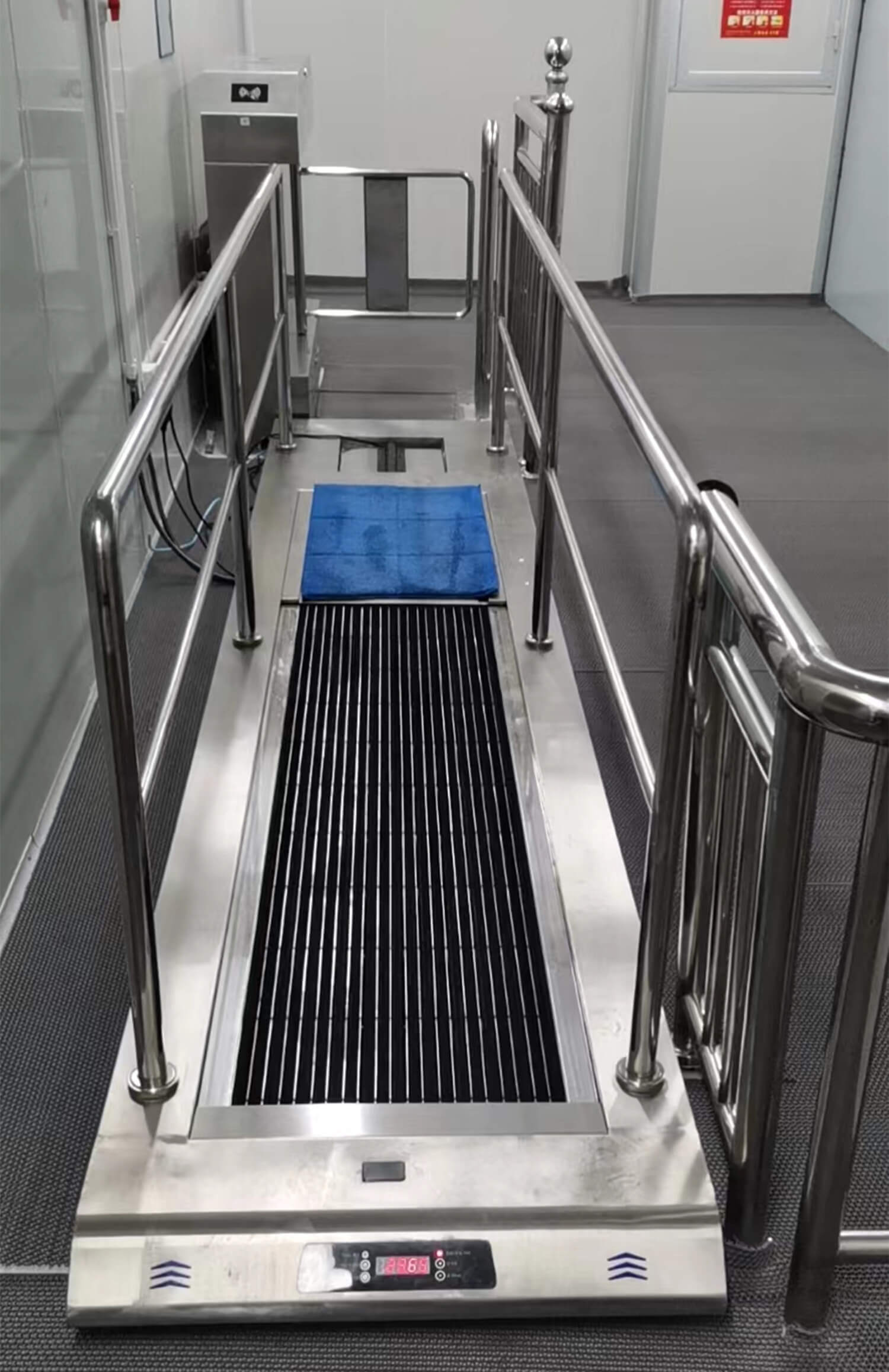 Shoe Cleaner Machine Is Essential for Clean Station
Different application scenarios have different demands. We have designed an automatic shoe cleaner machine. It is especially applied at the factory's cleaning station. As a passage -entry shoes cleaning machine, we designed stainless steel handrails. They can help workers quickly find the machine and queue up for shoe washing. In addition, it can avoid crowding.
This automatic shoe soles cleaner machine is the best choice in terms of cleaning soles. So it is unnecessary to buy other soles cleaning products. Just trust us, and select our soles cleaning machines. It is competent to clean shoes made from different materials. Whether you wear heavy duty boots or other shoes, it can clean up. As a result, the machine can be used at the building entrance and other entrances with more people in and out.
With high efficiency, it can clean up at least 3 persons' shoe soles within a few minutes. This high efficiency ensures the quality of the products and the cleanliness of the workshop. As you stand on the machine's cleaning area, side brushes start to run. And the speed of side brushes is 110 revolutions per minute. It is much faster than manual labor. As we have mentioned above, the HEPA filter can filter much solid waste. You don't need to worry about how to drain away waste. We have two modes for you to select, including manual/automatic mode selection. As for the former mode, you can use self-suction to manually clean. As for the latter mode, you can drain away waste by machine.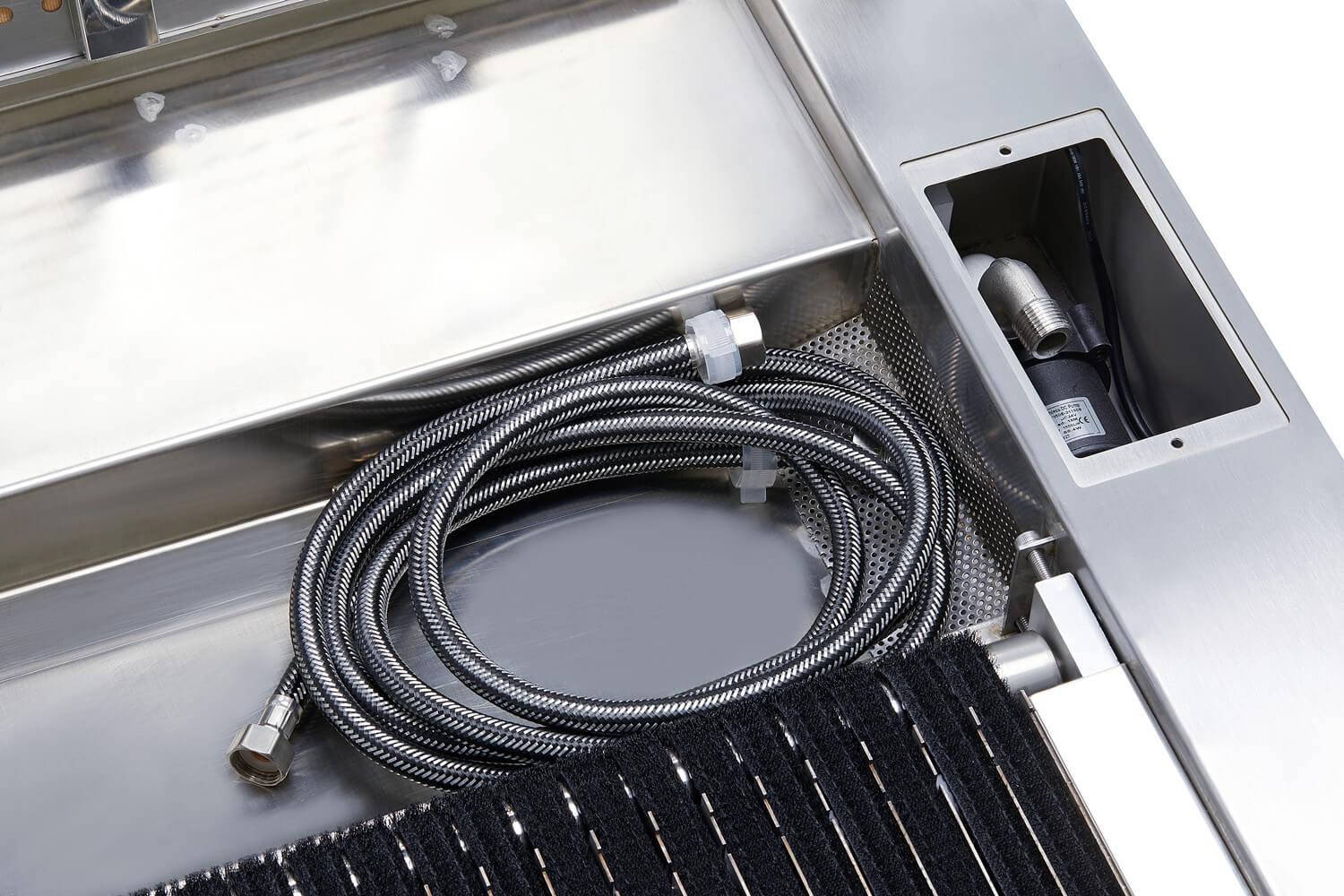 Future trend: Shoe Cleaning Machine Will Be Widely Applied
To avoid infecting the COVID-19 pandemic, many people have to stay at home. And it is hard for us to employ laborers to help us with various footwear cleaning. It is a laborious and tedious task for us to clean shoes by hand. In addition, the speed of washing shoes manually is much lower than that of shoe cleaning machines. Besides, manual shoe washing can guarantee 100% clean and dry shoes. In the future, this kind of monotonous repetitive jobs may disappear with the rapid development of technologies. Then, you will face a series of potential problems. This will waste so much human and material resources that you can't maximize profits for your business. The earlier you use soles cleaner machine, the more profit and convenience you will get. So add to your cart right now!
Dimension(MM):  1130* 750 *120
Clean Zone(MM):  350* 522
Dry Zone(MM): 430* 490
Work Induction: Auto
Inlet Water Temperature: 1-40℃
Water Tank Capacity: 10L
Water Change Method: Manual or Automatic
Sediment Cleaning Method: Dirt Suction
Suction Power:  DC100W
Working Voltage: DC24V
Motor Voltage/Power: DC24V/150W
Water pump voltage /Power: 24V/75W
Working Current: 2.5A
Brush Rotation Speed: 110RPM
Noise: <60DB
Main Body Material: SUS304
Maximum Load Capacity: 150KG
Main Body Life: 6 Years
Weight: 80KG
Warranty: 1 Year
Input Voltage: We will choose the corresponding voltage model according to the destination country of your order
Absorbent Cotton *4
Power Supply Line *1
DC Converter *1
Dirt-absorbing Motor *1
5.Handrail*2
Stainless Steel Pipe *2
Sole Cleaning Machine *1
Any inquiry or idea to share with us, fill the form and send your message.