Best Boot Scrubber Machine Glikon P-SJ2000
Passage-entry automatic cleaning machine
Microwave sensor induction start, long cleaning area cleaning, no waiting when people pass
Front and back bevelled stainless steel material design, beautiful and wear-resistant appearance, strong overall structure
Manual/automatic mode selection, self-suction for easy manual cleaning
Height-adjustable,length available
Source manufacturer, affordable price
Suitable for workshop entrance, building entrance and other entrances with more people enter and exit
Notice: Don't put it under the bright natural light. (Lamplight is OK.)
Please add the item to your shopping cart and enter your destination country on the checkout page to see the DDP or DDU shipping fee and delivery time.
Since the trade terms DDU or DDP cost differently for different items, you'd better check 1 type of the machines at a time.
The details of Best Boot Scrubber Machine Glikon P-SJ2000
I guess you have been upset about which boot scrubber you should buy for your factories for a long time. After all there are a lot of boot scrubbers in the market. If so, just add the automatic boot scrubber into your cart or the buying guide. Through a lot of researches, our company has made the Best Boot Scrubber to help you clean the heavy duty boot. Otherwise, you have to clean the boots and shoes by yourself. But it isn't easy to clean up. I will show you the disadvantages of this choice. Maybe you will be persuaded by me. Let me systematically recommend this weather resistant automatic boot scrubber to you.
The structure of Boot Scrubber
Don't worry about whether the boot scrubbers will clean up a dirty, heavy pair of boots. You also don't have to worry about the boot scrubbers getting broken when you're a little heavy. When you get the delivery, you can see the heavy gauge metal frame of best scrubber. Part of the frame is made from cast iron. Boot scrubbers in high equality are all solid. In this sense, you can be at ease. For example, the main body's material of the automatic boot scrubber is cast iron too. And it is a tough and water-repellent material. Thus, our scrubbers are weather resistant.
Bend your body, and you will observe the best boot scrubber more clearly. You will find the brushes of the scrubber. The scrubber brush is different from the common strong bristle. Its material is environmentally-friendly and durable. It is a kind of natural coconut fiber. Besides, its cleaning function is equivalent to a shoe brush and boot scraper brushes. It can even replace the effect of a rubber boot scraper or a shoe scraper. Because the scrubber brush with the boot cleaner can easily clean the bottom of the boot and shoe. Shoe cleaning machine will help you saving a lot of time.
In a word, boot scraper brushes are durable and effective. Using side brushes of the scrubber is better than the strong bristle of a boot brush.
Feartures of Glikon P-SJ2000
And it is cheap, so it can help you save the cost of the scrubber. This best boot scrubber only costs 1799 dollars. It is really expensive. But its heavy gauge metal frame and side brushes which are made from coconut fiber are deserved. In addition, the fiber possesses superior water absorption. So our absorbent pads are partly made from it, too. Then, the pads can quickly clean the bottom water of shoes. What's more, you can get some metal water pipes in the delivery. The surface of pipes is made from environmentally-friendly material-powder coating. The powder coating makes pipes more durable.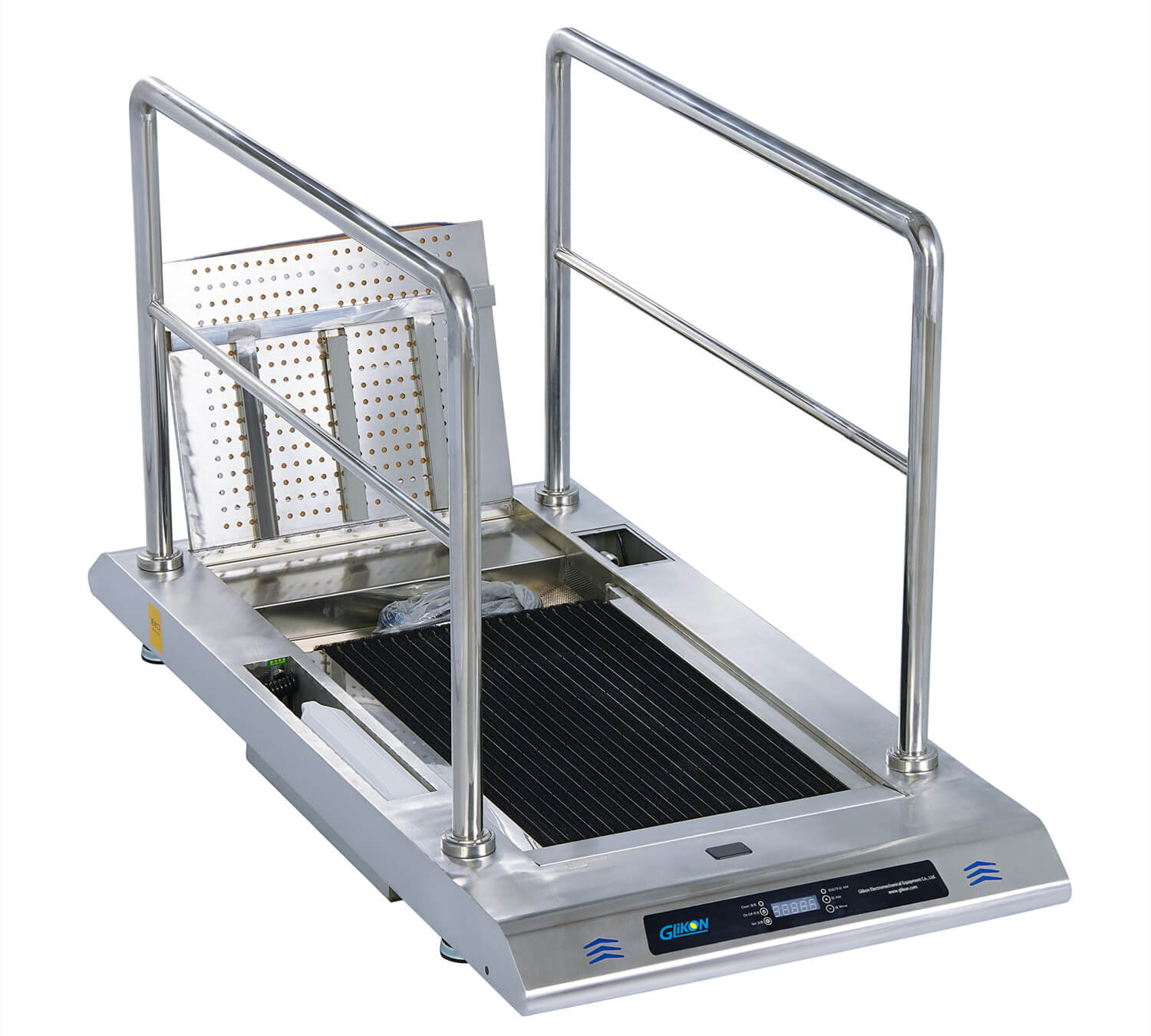 The application of Best Boot Scrubber Machine
Look at the cleaning area, you may consider it as a passage-entry automatic boot scrubber or a boot wash station. Yes, what you think is exactly right. Generally speaking, the application of our scrubbers is wide. Usually, it is applied at the entrance of workshops and the front door of buildings. You can put an automatic boot scrubber in other places where there are a lot of people going in and out. If you attach great importance to home's hygiene, you can buy and put it at the front door, too. If you want to clean boots and shoes, you also need to buy boot cleaner and shoe cleaner. In the same way, you should buy a boot brush and a shoe brush. By the way, a shoe scraper and a rubber boot scraper are indispensable. Therefore, your buying guide will include a lot of footwear clean products. It is really boring and troublesome.
The maintenance of the automatic boot scrubber
Clean the sediment falling in the sink every other week.
Add lubricating oil to the chain gear every two to three months.
Scrub and clean the equipment surface regularly.
Replace the shoes washing absorbent pad from time to time.
Change waste shoe cleaner in the sink timely. You can choose the automatic mode and it will drain away the waste cleaner.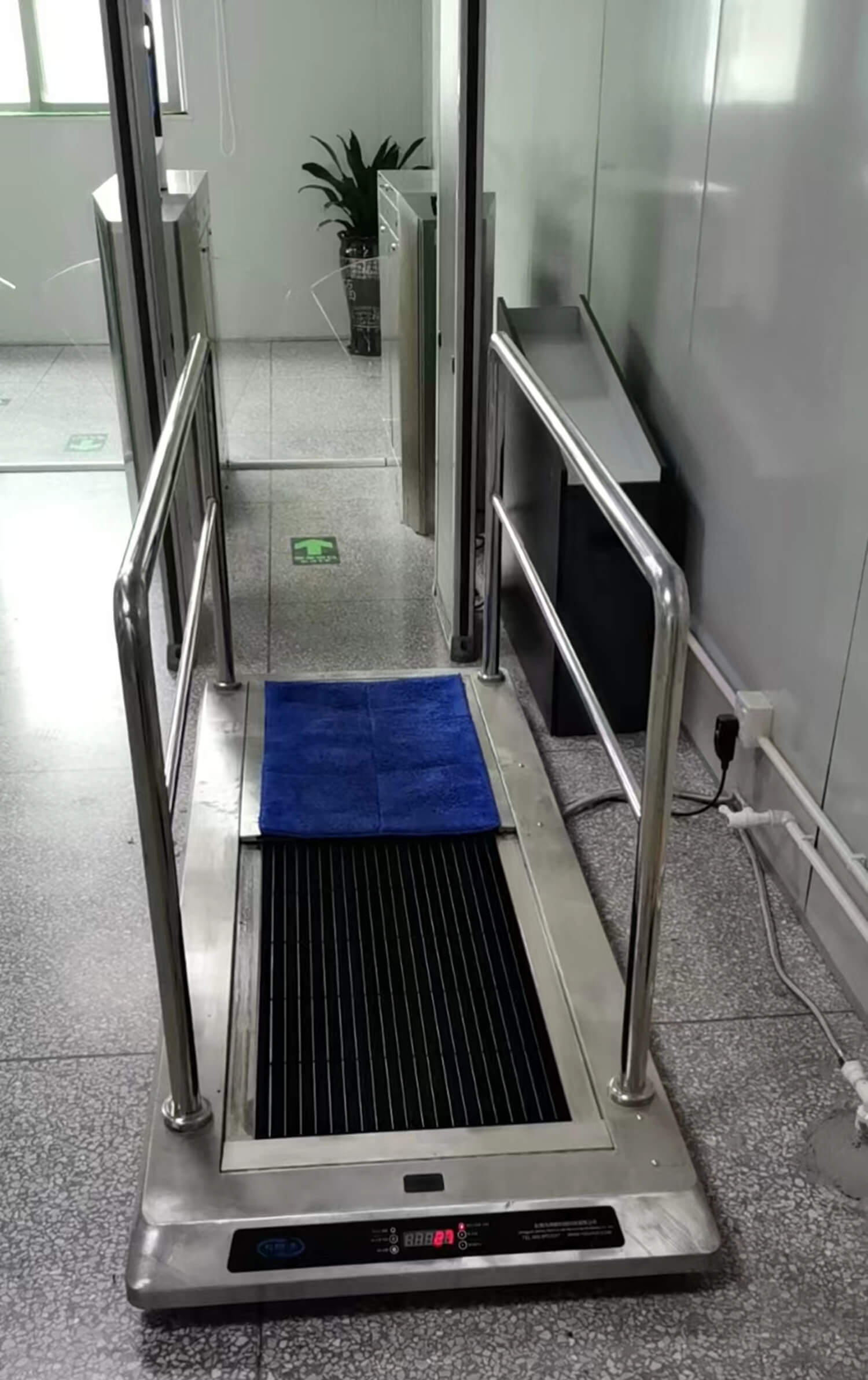 The user experience of boot scrubbers
So far, we have received much good feedback from users. They said that boot scrubbers save a lot of time and improve the efficiency for them. This also played a part of role in promoting the companies' economic growth. They added that boot scrubbers have brought super visual experience for the workshop. Action speaks louder than words, so just get it without hesitation.
Dimension(MM):  2000* 750 *120
Clean Zone(MM):  860* 522
Dry Zone(MM): 780* 490
Work Induction: Auto
Inlet Water Temperature: 1-40℃
Water Tank Capacity: 20L
Water Change Method: Manual or Automatic
Sediment Cleaning Method: Dirt Suction
Suction Power:  DC100W
Working Voltage: DC24V
Motor Voltage/Power: DC24V/150W
Water pump voltage /Power: 24V/75W
Working Current: 2.5A
Brush Rotation Speed: 110RPM
Noise: <60DB
Main Body Material: SUS304
Maximum Load Capacity: 300KG
Main Body Life: 6 Years
Weight: 120KG
Warranty: 1 Year
Input Voltage: We will choose the corresponding voltage model according to the destination country of your order
Absorbent Cotton *4

Power Supply Line *1

Dirt-absorbing Motor *1

Handrail*2

Stainless Steel Pipe *2

Sole Cleaning Machine *1
Any inquiry or idea to share with us, fill the form and send your message.