When it comes to the automatic boot scrubber in the entrance cleaning system, each person has his or her own opinion. And boot washing systems on the market are also various. After many years of precipitation, the brand of imitation scrubbing system product has sprung up like mushrooms. The quality of footwear sole cleaners in the market is uneven. And users do not know how to choose one shoe sole cleaning machine product with strong stability and high quality. That's why I introduce our machine here.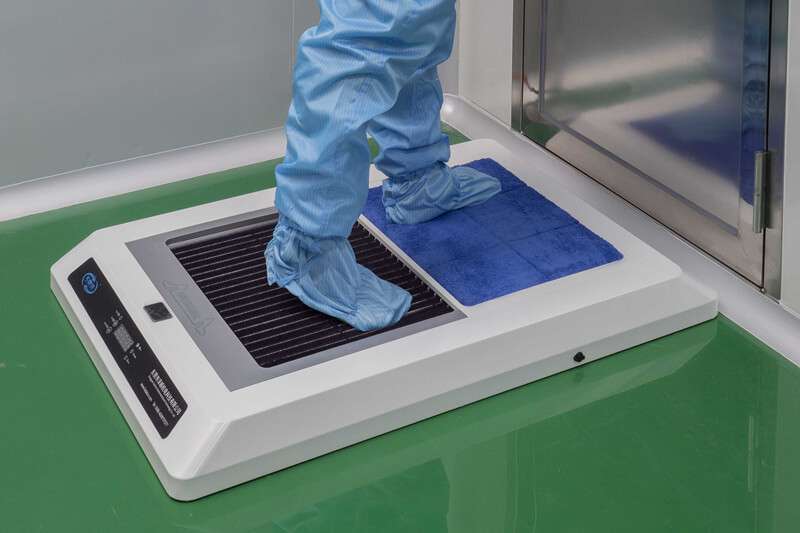 1. Industrial boot scrubber components
Glikon's footwear sole cleaning machines products mainly consists of many parts. They include stainless steel body, motor, water pump, boot brush, controller, radar sensor, water level sensor, filter plate, water absorption pad, and so on. In the cleaning station area, side brushes are soaked in the water tank and scrub the soles with enough water. Customers walk over the belt of boot brush, and then the boot and shoe soles can be cleaned. After that, go to the quick-dry area, absorbent cotton does its job and absorbs excess water from soles of boots and shoes. Finally, it achieves a dust-free and dry effect.
The water inlet and drain of our stainless steel boot cleaners are fully automatic. Also, they have automatic induction, and cleaning machines will stop when people leave. There is no need to stay, go through the heavy duty boot washer, and remove 99% of the dirt from the sole. Clean the dirt on soles of your boot and shoes at the entrance to keep them clean. The automatic boot scrubber helps provide a clean and comfortable production and office environment. By using this product cleaning solution, it then meets the clean environment demand.
2. Automatic boot scrubber features
Glikon water washing shoe sole cleaner is ultra-thin, easy to install, and maintain. Also, it needs one small space, has one simple structure and good sole cleaning effect. There is no need to occupy human resources. And only occasional basic maintenance is required. As a result, the industrial shoe cleaner machine on site can continuously create value for the enterprise and save labor. In some workshops which want to reduce cost, people use shoes covers for visitors. But it's not convenient to use. Each time visitors come, they need to bend and wear the shoes cover product. When they leave, bend down again to take it off. So, the automatic shoe sole cleaning machine can replace non-recyclable products like shoes cover and sticky mats. Also, it makes a massive contribution to protecting the environment.
3. Boot cleaner machine usage scenario
Our automatic boot scrubber is not only suitable for families, but also offices, laboratories, computer rooms, TV stations, hotels, photo studios, workshop and clean room. Besides, this boot washing station is also applicable in unique places. For example, hospitals, food factories, pharmaceutical factories, breeding plants, and so on. For different applications, you may need different dimension boot cleaners products to use. Glikon has some existing scrubbing system models of the boot cleaners for you to select. If you need to customize the size, click here to contact us.
These products have reasonable design, beautiful appearance, advanced technology, and convenient use. Also, boot scrubbers bring cleanliness and convenience to thousands of households and workshops.
For example, when you cut the grass in your garden, the rubber boots you wear are full of mud, dirt and grass clippings. To avoid staining the floor, you can walk on the boot cleaner machine to wash your heavy duty rubber boots before entering the home. For pharmaceutical factories, sometimes it needs aseptic conditions to make research and development of drugs. In this situation, the work boots should not only have no dirt, but also need to be disinfected. So how to sterilize?
You can pour disinfectant into the water sink of the sole cleaner. When customers put their work boots on the washing area, the sterilized water will kill the bacteria and viruses. By using the heavy duty shoe cleaning machine, the dust, dirt, and virus reduction requirement can be achieved.
4. Industrial shoe cleaner machine application industry
What industries do boot cleaning machines apply? In general, the automatic industrial boot scrubber is suitable for all kinds of industries with relatively high environmental requirements. For example, industries of aerospace, high-speed rail, electronic appliances, machinery, hardware, food, manufacturing, mobile phone, breeding, automation, exhibition, laboratory research and development, semiconductor production, medical, purification system, etc. Especially in dust-free workshops, almost all of them now need shoe sole cleaners. The shoe cleaning machine has become an essential entrance cleaning equipment for companies with clean room.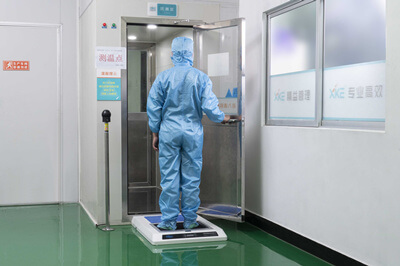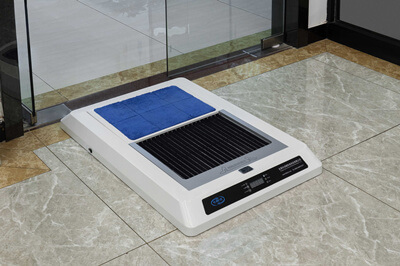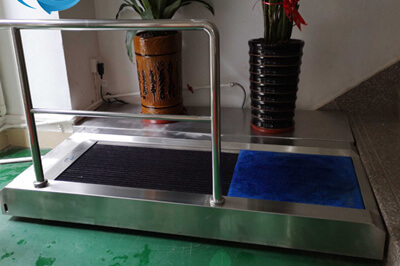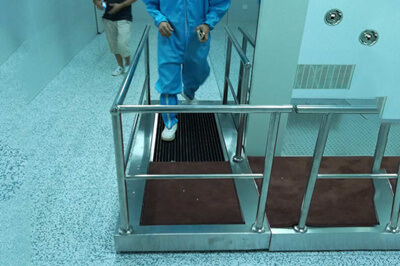 For places where the flow of people is not too large, we recommend you use the boot cleaner machine, which length is around 1 meter. Models of ZS-SJ1001, 1002, 1004, 1005 boot scrubbers can satisfy you. It has no handrail and is light to clean the footwear. For the place with a lot of customers, according to the different visitors flow, you can choose a different dimension. We also have heavy duty boot cleaning machines with a length of 1 meter, 1.8 meters, 2 meters, and 3 meters. Of course, any size can be customized for you. In general, we add stainless steel handrails on two sides of the long industrial shoe cleaner machine. Especially, our high quality boot brush cleaner can also be installed in the air shower to wash the footwear.
5. Our Clients
Glikon
automatic shoe sole cleaning machine was started in 2009. Until now, the sole cleaners have gone through eight times upgrades. During these 11 years, we keep updating and making the research and development. Many customers and enterprises appreciate our efforts. Our famous clients include Flex, Foxconn, Samsung, Jabil Group, etc.